Kata "Anjay" tengah menjadi sorotan luas paska sebaran surat yang dikeluarkan Komisi Nasional Perlindungan Anak atau Komnas PA yang meminta masyarakat Indonesia untuk berhenti menggunakan kata tersebut. Kata "Anjay" dianggap ofensif dan merupakan kata yang diserap dari umpatan kasar yaitu "Anjing".
Belakangan, seorang warganet yang mengaku memiliki nama panggilan Anjay, tampak tak terima dengan aturan tersebut hingga membuat klarifikasi di media sosial miliknya mengenai namanya.
Dibagikan kembali oleh akun Twitter @khusniahayati pada 31 Agustus, pemilik akun mengunggah gambar tangkapan layar akun Instagram milik teman kakaknya yang bernama Anjayna.
Dipanggil Anjay, pemilik akun Instagram ini menuliskan penjelasan mengenai namanya yang disebut memiliki makna yang bagus dibaliknya.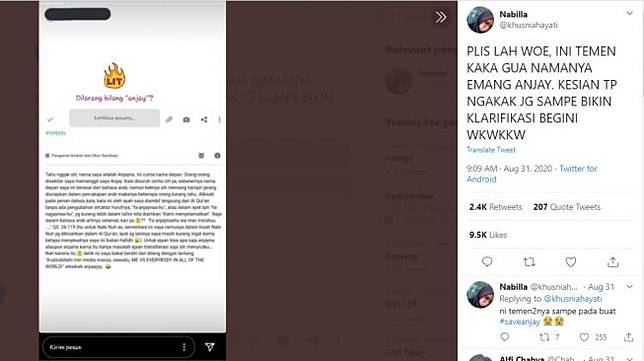 "Tahu nggak sih, nama saya adalah Anjayna. Ini cuma nama depan. Orang-orang di sekitar saya memanggil saya Anjay. Kalau disuruh cerita nih ya, sebenernya nama depan saya ini berasal dari bahasa Arab, namun kayaknya sih memang hampir jarang diucapkan dalam percakapan makanya beberapa ornag kurang tahu," tulis pemilik akun tersebut.
Ia kemudian menjelaskan bahwa kata tersebut diambil langsung dari Al-Qur'an tanpa ada perubahan struktur hurufnya, yaitu fa-anjaynaa-hu atau dalam ayat lain berbunyi fa-najjaynaa-hu, yang kurang lebih memiliki arti "Kami menyelamatkan".
Pemilik akun tersebut pun memberikan contoh surat di dalam Al-Qur'an di mana ayat tersebut muncul.
"Untuk ejaan bisa apa saja Anjayna atau Anjaina karena itu masalah ejaan literasi saja sih menurutku… nah karena itu detik ini saya bakal berdiri dan bilang dengan lantang, 'A'udzubillahi min media massa, nawaitu, Me vs Everybody in all of the world!' wkwkwk anjaayy…" tambah pemilik akun Instagram tersebut.
Unggahan itu pun mendapat perhatian warganet, mengingat penggunaan kata "Anjay" masih menjadi sorotan.
"Plis lah woy, ini temen kakak gue namanya emang Anjay. Kesian tapi ngakak juga sampe bikin klarifikasi begini wkwk," tulis akun @khusniahayati dalam kolom keterangan.
Cuitan yang telah dibagikan sebanyak lebih dari 2.400 kali ke sesama pengguna Twitter ini pun menuai beragam komentar dari warganet. Bahkan, tak sedikit warganet yang juga memberikan contoh nama orang yang memiliki nama Anjay.
"Saudara aku juga namanya Anjaya, dipanggilnya Anjay. Sekarang lagi jadi bahan perbincangan di grup keluarga, katanya 'Anjay anak bapak Tono mending kamu ganti nama, nanti dipenjara'. Nangis, padahal dia udah buat KTP," tulis akun @androidakutu.
"Temen gue juga namanya Anjay. Gimana nanti kalau pas masuk sekolah diabsen sama guru, terus gurunya masuk sel," komentar @ChahyaAlfi.
"Kalau nggak salah, dalam bahasa Sansekerta juga ada artinya, tidak terkalahkan," tambah @Hamstaro_.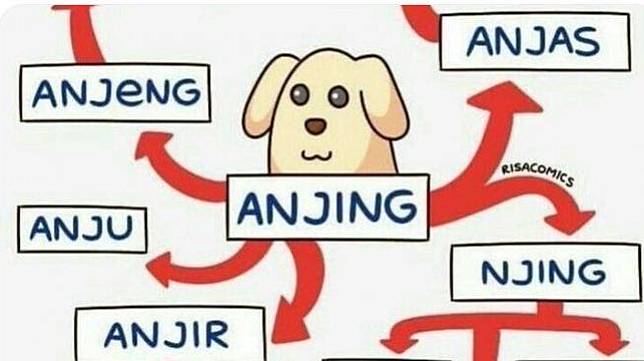 "Saudara gue namanya Anjay Lulu, kita memang dari dulu manggilnya Anjay. Jadi sumpah mikir banget kalau sampe kata anjay dilarang, nanti dia ganti nama dong," ungkap @disnaiy.
"Kasihan yang panggil nama dia ditangkap semua," cuit @Riangga164.