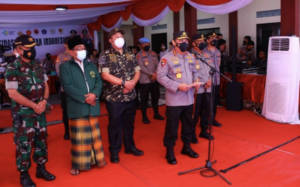 Kapolri Jenderal Listyo Sigit Prabowo kembali meninjau pelaksanaan vaksinasi serentak di 34 provinsi Indonesia. Kali ini, Sigit bersama dengan anggota Komisi III DPR RI Cucun Ahmad Syamsurijal menghadiri langsung akselerasi vaksinasi di Pusdik Intelkam, Soreang, Kabupaten Bandung, Jawa Barat.
"Hari ini prioritas yang dilaksanakan di tempat ini kita laksanakan vaksinasi khususnya untuk saudara-saudara kita imam masjid, penceramah, khatib, dan tentunya keluarga besar dan masyarakat yang ada di sekitar. Ada kurang-lebih 1.500 masyarakat yang divaksin di tempat ini. Sementara Jawa Barat sendiri target vaksinasi harian hari ini di angka 200 ribu. Tentunya ini saya berikan apresiasi dan tolong terus dipertahankan," kata Sigit setelah meninjau kegiatan itu, Kamis (24/3/2022).
Dalam tinjauannya kali ini, Sigit mengapresiasi Forkopimda Jawa Barat lantaran mendapatkan laporan bahwa laju pertumbuhan COVID-19 dan angka positivity rate di wilayah ini mengalami penurunan. Ia pun meminta untuk mempertahankan dan meningkatkan capaian positif tersebut.
Meski begitu, Sigit menekankan kepada Forkopimda maupun Forum Kerukunan Umat Beragama (FKUB) di seluruh Indonesia untuk tetap mempersiapkan strategi-strategi percepatan akselerasi vaksinasi ketika memasuki bulan Ramadan.
Menurut Sigit, di bulan suci tahun ini, pemerintah telah memberikan kesempatan kepada masyarakat Indonesia untuk menunaikan ibadah di masjid secara normal dengan tetap menerapkan protokol kesehatan. Oleh sebab itu, Sigit meminta hal itu harus dijaga untuk memastikan masyarakat tetap dalam keadaan sehat atau terhindar dari paparan virus Corona.
"Oleh karena itu, saya minta untuk Pak Kapolda dan seluruh jajaran FKUB yang ada, terus dorong strategi vaksinasi untuk melakukan pendekatan strategi vaksinasi di dekat masjid. Kemudian di tempat yang banyak kegiatan, yang mungkin aktivitasnya meningkat, seperti di pasar dan lainnya. Tolong di titik-titik tersebut yang banyak aktivitas, disiapkan gerai-gerai vaksin sehingga selama bulan Ramadan ini vaksinasi tetap berjalan dan utamanya seluruh aktivitas masyarakat bisa berjalan dan laju pertumbuhan COVID-19 bisa kita jaga," ujar Sigit.
Strategi vaksinasi tersebut, ditegaskan Sigit, merupakan kunci untuk menekan laju pertumbuhan COVID-19. Karena itu, harus dipastikan masyarakat telah mendapatkan suntikan vaksin dosis dua dan dosis tiga atau booster.
Mantan Kabareskrim Polri itu juga mengingatkan soal kesiapan menghadapi tradisi mudik masyarakat menjelang Hari Raya Idul Fitri. Dengan lengkapnya vaksinasi, diharapkan tidak munculnya klaster COVID-19.
Lebih lanjut, demi mencegah munculnya klaster, mantan Kapolda Banten itu juga mengingatkan soal percepatan vaksinasi terhadap masyarakat kelompok lanjut usia (lansia). Menurutnya, akselerasi lansia bisa diterapkan strategi door to door.
"Ini yang akan terus kita kejar dan laksanakan, sehingga seluruh rangkaian di Ramadan, pasca-Hari Raya Idul Fitri, kita yakin laju COVID-19 bisa kita kendalikan. Karena ini akan berdampak terhadap pertumbuhan ekonomi yang kita harapkan bisa kita jaga untuk bertumbuh di atas 5 persen. Ini yang tentunya harus kita kelola dengan baik. Bagaimana upaya meningkatkan kesehatan di satu sisi pertumbuhan ekonomi bisa terus kita dorong. Dan tentunya ini menjadi harapan kita semua bisa terlaksana dengan baik," ucap eks Kapolda Banten itu.
Di sisi lain, terkait menjelang Bulan Ramadan, Sigit juga berharap kepada awak media untuk ikut membantu menginformasikan soal ketersediaan serta harga penjualan minyak goreng khususnya jenis curah. Hal itu diharapkan untuk menghindari adanya kelangkaan dan permainan harga. Sebab, kata Sigit, pemerintah telah menetapkan kebijakan harga untuk penjualan minyak goreng curah.
"Dan kemudian, kami tentunya titip ke rekan-rekan media, di luar kegiatan vaksinasi, saat ini kita terus memantau perkembangan fluktuasi keberadaan minyak khususnya minyak curah dan kita minta agar minyak curah yang telah diberikan subsidi oleh pemerintah betul-betul keberadaannya segera di pasar. Dan karena itu distribusi yang tersumbat kemudian hal lain yang mengganggu terhadap ketersediaan minyak ini tolong diinformasikan kepada kita. Sehingga kita bisa lakukan langkah-langkah," papar Sigit.
Selain melakukan peninjauan, Sigit memberikan pengarahan strategi pengendalian pandemi COVID-19 secara virtual di seluruh provinsi Indonesia
The post Jelang Ramadhan Kapolri Minta Forkopimda dan FKUB Siapkan Strategi Vaksinasi di Bulan Suci appeared first on BacaSaja.
from BacaSaja https://ift.tt/4SevzoK
via IFTTT https://ift.tt/l7e3uMj https://ift.tt/SfknE7U https://ift.tt/E30V82I