Kapolri Ungkap AMMTC Hasilkan Deklarasi Labuan Bajo Kerja Sama Berantas Kejahatan Lintas-Negara
LABUAN BAJO – Kapolri Jenderal Listyo Sigit Prabowo mengungkap hasil pertemuan ASEAN Ministerial Meeting On Transnational Crime (AMMTC) +3 ke-17 di Labuan Bajo, Nusa Tenggara Timur (NTT).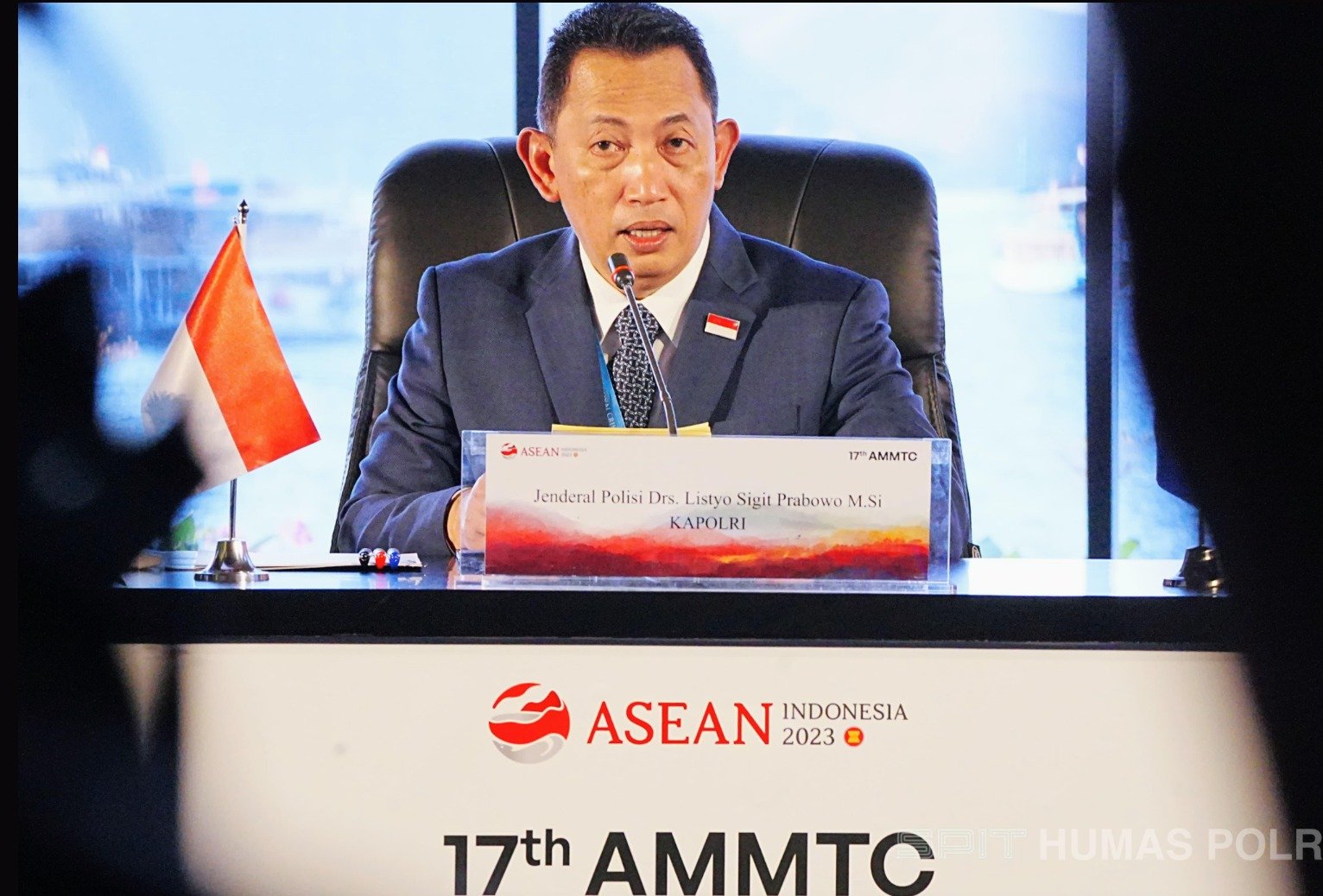 Sigit menyebut, dalam sidang pertemuan yang dilaksanakan mulai 21-22 Agustus telah menghasilkan 16 dokumen, yang diantaranya adalah terdapat empat deklarasi, dimana tiga diantaranya inisiatif dari Pemerintah Indonesia.
"Saya infokan di dalam kegiatan AMMTC ke-17 saat ini kita menghasilkan 16 dokumen berupa 4 deklarasi, di mana 3 merupakan inisiatif dari Indonesia dan 1 merupakan inisiatif dari Kamboja, 1 program kerja terkait penyelundupan manusia dan 5 pernyataan bersama dan 6 pedoman teknis," kata Sigit dalam jumpa pers penutupan AMMTC di Ballroom Hotel Meruorah, Labuan Bajo, NTT, Selasa (22/8/2023).
Menurut Sigit, hasil kesepakatan delegasi AMMTC +3 itu terkait dengan penguatan kerja sama pemberantasan kejahatan lintas-negara dengan semakin efektif dan adaptif.
"Tentunya pesan yang ingin kami sampaikan dalam pertemuan kali ini adalah tidak boleh lagi ada pelaku yang dapat bersembunyi dari kejahatan yang telah dilakukan," ujar Sigit.
Disisi lain, Sigit menuturkan bahwa, pesan yang ditekankan tersebut juga terakomodir dalam delapan poin Deklarasi Labuan Bajo tentang peningkatan kerja sama penegakan hukum dalam memberantas kejahatan transnasional.
Menurut Sigit, deklarasi itu sebagai landasan untuk melakukan upaya konkret operasional dalam melakukan kegiatan penegakan hukum kejahatan lintas-negara.
"Seperti police to Police, handling over, joint investigation dan Mutual Legal Assistant. Kemudian meningkatkan pertukaran informasi yang cepat dan aman, meminta barang-barang yang terkait dengan kejahatan transnasional dan memfasilitasi pertukaran ahli dan personel dalam berbagai kegiatan kerjas ama antar negara," ucap Sigit.
Disisi lain, Sigit menekankan, salah satu deklarasi yang diinisiasi Indonesia terkait kerja sama melindungi saksi dan korban kejahatan transnasional telah disetujui seluruh peserta.
"Jadi ini adalah komitmen kita bahwa masyarakat merupakan pihak yang dirugikan dari kejahatan tersebut dan kami berkomitmen untuk terus mengembangkan mekanisme perlindungan korban yang efektif dalam bentuk perlindungan fisik pengobatan, psikologis dan pemulihan sosial demi memulihkan hak-hak korban," tutur Sigit.
Lebih dalam, terdapat juga deklarasi ASEAN tentang pengembangan kemampuan regional terkait peringatan dini dan respon dini atau early warning dan early respon.
"Ini juga di inisiasi oleh Indonesia untuk mencegah dan menanggulangi radikalisasi dan kekerasan berbasis ekstrimisme," kata Sigit.
Kemudian satu deklarasi yang merupakan inisiatif Kamboja yaitu deklarasi ASEAN tentang pemberantasan penyelundupan senjata api.
Ini merupakan wujud komitmen ASEAN untuk pemberantasan penyelundupan senjata api melalui kerja sama dan pendekatan komprehensif mulai dari kampanye bahaya penyelundupan senjata api, pertukaran informasi dan berbagai upaya lainnya.
Kemudian selain deklarasi, dalam kegiatan ini juga telah dilakukan penandatanganan 6 MoU dengan negara-negara ASEAN yaitu Kamboja, Laos, Malaysia, Singapura, Thailand dan Vietnam di bidang pencegahan dan pemberantasan kejahatan transnasional serta pengembangan kapasitas.
"Kami juga melakukan dua bilateral meeting dengan Malaysia dan Jepang serta pertemuan khusus dengan empat negara yaitu Singapura, Laos, Cina, dan Vietnam terkait kerjasama penegakan hukum, pengembangan kapasitas, pertukaran teknologi dan kegiatan-kegiatan lain untuk meningkatkan stabilitas keamanan di kawasan," papar Sigit.
Seluruh yang dihasilkan dalam AMMTC ini, kata Sigit, menjadi awal yang baik untuk semangat bersama dalam hal memerangi dan memberantas kejahatan lintas-negara ke depan.
"Dalam kesempatan ini saya mengucapkan terima kasih kepada masyarakat Labuan bajo yang telah memberikan dukungan. Sehingga acara AMMTC yang ke-17 ini dapat berjalan dengan lancar dan menghasilkan deklarasi untuk kepentingan stabilitas kamtibmas di kawasan sesuai dengan tema ASEAN Matters: Epicentrum of Growth". Semoga AMMTC kali ini memberikan kontribusi terhadap stabilitas kamtibmas dan memberikan kedamaian di kawasan ASEAN," tutup Sigit.
Kapolri Konferensi Pers terkait AMMTC ke-17 di Labuan Bajo, Selasa 22 Agustus 2023 #Ammtc17 #Ammtc2023 #Ammtclabuanbajo
#presidenjokowi #Kapolri #Kadivhumaspolri #Irjenpolsandinugroho #Cyberjournalismepolri #Bloggerpolri