See detail
Dampak ledakan Beirut (Foto: NASA/JPL-Caltech/Earth Observatory of Singapore/ESA)
JAKARTA, iNews.id – Pekan lalu ledakan dahsyat mengguncang kota Beirut, Lebanon. Ada banyak saksi mata dan video yang menunjukkan ledakan hebat itu serta dampak yang ditimbulkan.
Bekerja sama dengan Earth Observatory of Singapore, NASA telah menggunakan data dari alat observasi terbang tinggi ini untuk menghasilkan peta yang menunjukkan seberapa luas kerusakan di Beirut. Dengan membandingkan citra satelit sebelumnya dari wilayah yang sama dengan yang diambil usai kejadian, sistem NASA dapat mendeteksi perubahan besar serta kecil pada landscape.
Gambar memperlihatkan bangunan yang runtuh dan perubahan geografi area tersebut. Sistem memberi label pada setiap titik di mana terlihat perbedaan. Semakin gelap pikselnya, maka semakin dramatis kerusakannya.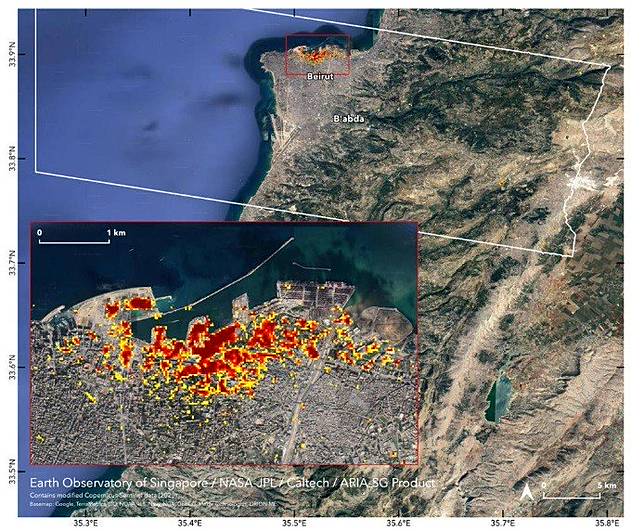 See detail
Dampak ledakan Beirut (Foto: NASA/JPL-Caltech/Earth Observatory of Singapore/ESA)
"Tim Advanced Rapid Imaging and Analysis (ARIA) NASA berkolaborasi dengan Earth Observatory of Singapore, menggunakan data radar aperture sintetis yang diturunkan dari satelit untuk memetakan kemungkinan tingkat kerusakan dari ledakan besar 4 Agustus di Beirut," kata NASA yang dikutip dari BGR, Selasa (11/8/2020).
Data radar aperture sintetis dari luar angkasa, kata NASA, menunjukkan perubahan permukaan tanah dari sebelum dan sesudah peristiwa besar seperti gempa Bumi. Dalam hal ini, data digunakan untuk menunjukkan hasil yang menghancurkan dari sebuah ledakan.
Saat peta seperti ini dibuat, mereka tidak hanya untuk tujuan melihat seberapa buruknya hal tersebut. Tingkat kerusakan di area tertentu dapat menjadi indikator besar bagi personel darurat yang ingin mencoba menemukan korban selamat di antara reruntuhan.
Saat kerusakan meluas, terkadang tidak segera jelas ke mana petugas tanggap darurat harus memfokuskan perhatian mereka. Tapi, peta ini bertindak sebagai paduan untuk mendorong mereka ke arah yang benar.
Ledakan dilaporkan terjadi saat timbunan besar amonium nitrat terbakar. 2.750 ton kimia tersebut telah disimpan di gudang dekat pelabuhan selama kurang lebih enam tahun. Di bidang pertanian, ini sering digunakan sebagai pupuk. Tapi juga sangat mudah meledak dalam kondisi yang tepat.
https://ift.tt/2PK072U
from Sains – Latest Posts https://ift.tt/33Nc6Fe
via IFTTT