APAKAH POLISI MELANGGAR ATURAN FIFA DALAM PENGGUNAAN GAS AIR MATA..?
Aturan nomor 19 FIFA yang disebutkan alasan tidak boleh ada alat Crowd Control, hanya berlaku untuk stewards, dan polisi yang di perbantukan sebagai stewards. Dan aturan FIFA pasal 9 & 10 juga mewajibkan adanya contingency & emergency plan untuk pengamanan kalau terjadi kerusuhan. Artinya saat terjadi kerusuhan seperti itu, aturan yang berlaku adalah emergency plan.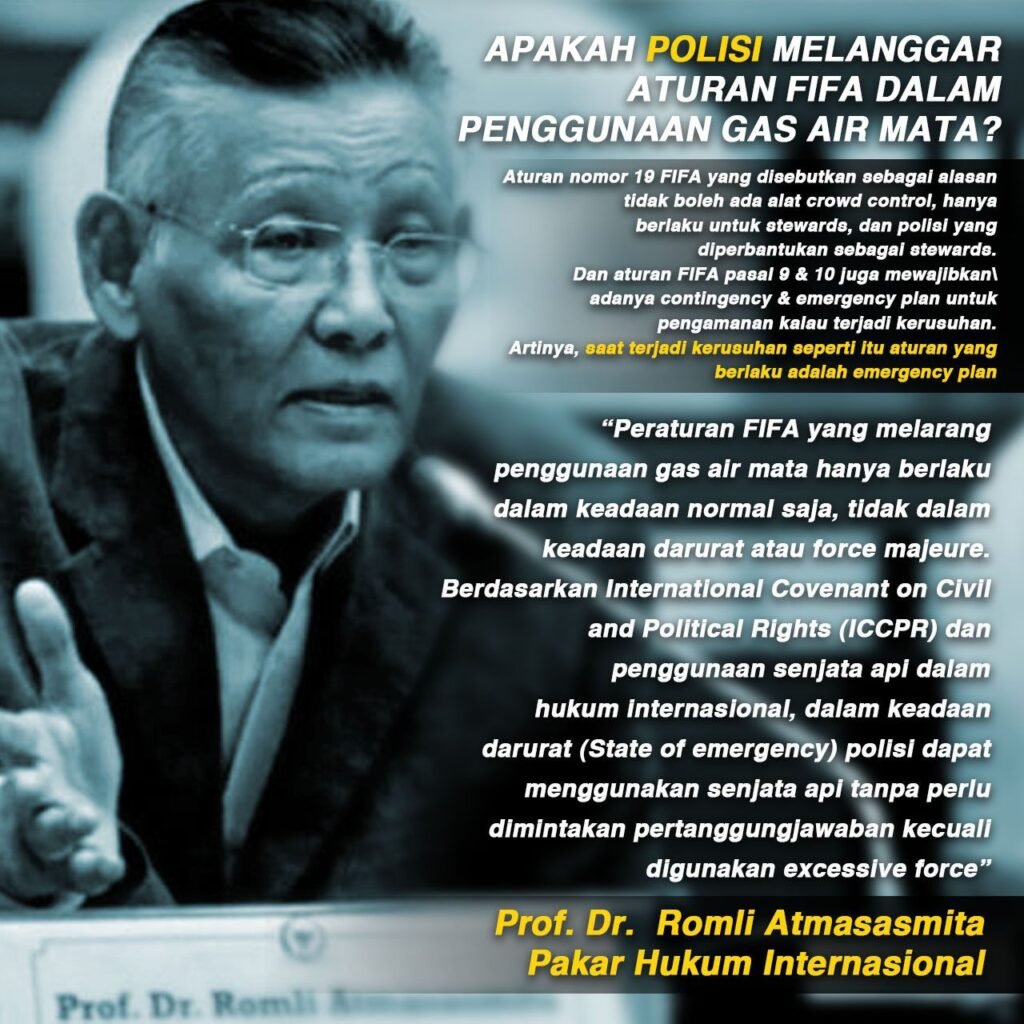 Peraturan FIFA yang melarang penggunaan gas air mata hanya berlaku dalam keadaan normal saja, tidak dalam keadaan darurat atau force Majeure. Berdasarkan International Covenant On Civil and Political Rights (ICCPR) dan penggunaan senjata api dalam hukum internasional, dalam keadaan darurat (State Of Emergency) polisi dapat menggunakan senjata api tanpa perlu di mintakan pertanggungjawaban kecuali di gunakan excessive force.
Prof. Dr. Romli Atmasasmita,
(Pakar Hukum Internasional).
The post Pakar Hukum Internasional Angkat Bicara Terkait Polisi Gunakan Gas Air Mata appeared first on BacaSaja.
from BacaSaja https://ift.tt/ODxcJbn
via IFTTT https://ift.tt/YeD5lBr https://ift.tt/ptZELyF https://ift.tt/nGQmiBy