Di bagian terdalam lautan yang begitu gelap dan dingin, berbagai makhluk hidup berusaha bertahan dengan caranya sendiri-sendiri.
Ada sebagian yang menciptakan cahaya sendiri untuk menarik perhatian mangsa, dan ada yang malah berevolusi untuk berkulit super hitam dan menyerap cahaya agar dapat bersembunyi dalam kegelapan.
Para ilmuwan telah menemukan 16 spesies baru ikan laut dalam yang masuk kategori kedua. Ikan-ikan ini berkulit sangat hitam hingga nyaris tak memantulkan cahaya.
Temuan ini telah dipublikasikan dalam jurnal Current Biology.
Baca juga: Ikan Langka Berkepala Mohawk Akhirnya Resmi Punah, Kok Bisa?
Dilansir dari Futurism; pakar biologi kelautan Karen Osborn dari Smithsonian's Museum of Natural History yang merupakan salah satu penulis studi menjadi tertarik untuk menyelidiki ikan-ikan ini setelah dia gagal memotret mereka enam tahun yang lalu.
Meskipun Osborn sudah mengarahkan dua cahaya studio ke ikan-ikan itu, kulit ikan tampak menyerap hampir seluruh cahaya yang ada hingga tak terlihat detail rupanya.
Setelah bersusah payah selama enam tahun, Osborn pun hanya bisa memotret dua spesimen saja, yakni Anoplogaster cornuta and the Idiacanthus antrostomus. Sisanya hanya terlihat seperti siluet hitam ketika difoto.
Penulis utama studi Alexander Davis dari Duke University berkata bahwa melihat ikan-ikan ini seperti melihat lubang hitam.
"Kami tidak menyangka ada ikan yang ultra hitam seperti ini. Sejauh yang kami ketahui, hanya ada sedikit vertebrata yang ultra hitam seperti ini, yakni beberapa jenis burung cenderawasih dan beberapa spesies burung lainnya," kata Davis.
"Ini adalah kali pertama kami melihat sesuatu yang segelap ini digunakan sebagai kamuflase," imbuhnya lagi.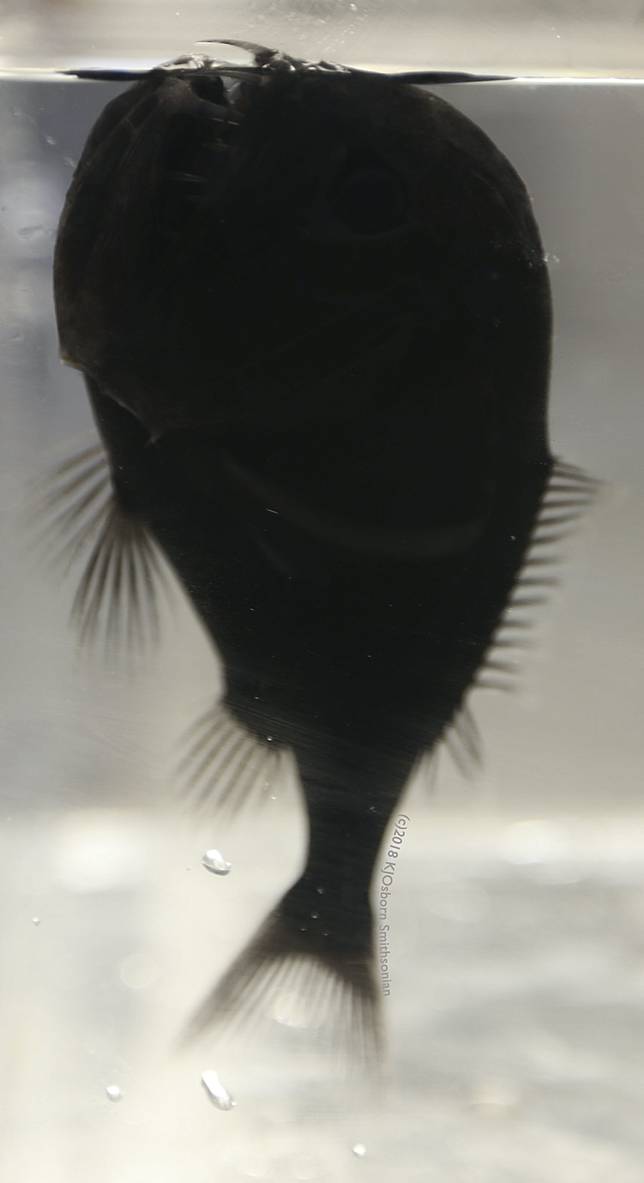 Karen Osborn/SmithsonianAnoplogaster cornuta
Ya, beberapa ikan-ikan ini memang luar biasa gelap hingga menyerap 99,956 persen cahaya yang mengenainya.
Sebagai perbandingan, materi tergelap yang pernah diciptakan oleh manusia menyerap 99,995 persen cahaya. Para insinyur MIT secara tak sengaja menciptakan material ini pada tahun lalu.
Lantas, apa yang membuat ikan-ikan ini begitu hitam?
Rahasianya ada pada melanin, pigmen yang juga ditemukan pada kulit manusia dan melindungi kita dari cahaya matahari.
Pada ikan-ikan ini, melanin disimpan dalam butiran yang disebut melanosom, yang berada pada sel-sel bernama melanofor. Melanin, melanosom dan melanofor membentuk lapisan khusus pada dermis (atau lapisan dalam kulit) ikan.
Pigmen melanin inilah yang secara efektif menyerap cahaya yang mencapai melanosom. Sementara itu, cahaya yang tidak bisa langsung terserap disebarkan ke sebelahnya untuk diserap oleh pigmen melanin lainnya.
Tim peneliti berkata bahwa dengan mempelajari ikan-ikan ultra hitam ini, mereka berharap dapat menciptakan materi ultra hitam serupa yang dapat digunakan untuk melapisi alat-alat yang sensitif terhadap cahaya dengan lebih efisien dan efektif.