Mutasi virus corona makin meluas di dunia. Ada laporan terbaru menyebutkan, mutasi virus corona bisa menular 10 kali lebih cepat dari corona biasa sudah ditemukan di sejumlah negara.
ADVERTISEMENT
"Penyebaran di peta terkait mutasi ini, kita bisa lihat analisis jurnal Bette Kober per 20 Agustus dia menjabarkan bahwa virus corona di dunia mutasi D164G sekarang semakin meningkat dan meluas," ungkap ahli biomolekuler Unair dr Ni Nyoman Tri Puspaningsih dalam webinar internasional bertajuk 'Ending Pandemics Covid-19: Effort and Challenge, yang dikutip, Jumat (28/8).
Kata
Nyoman, kita bisa lihat mutasi dan tingkat infeksinya di sana. Namun belum ada laporan terkait dampak permutasian tersebut.
Beberapa waktu lalu Malaysia mengumumkan telah menemukan mutasi virus corona D164G.
Nyoman
mengatakan, mutasi corona banyak ditemukan di Eropa.
Mutasi D614G
pertama
kali terdeteksi di Eropa pada Februari 2020, dan sejak itu menjadi varian SARS-CoV-2 yang paling dominan
ditemukan
pada sampel usap di seluruh dunia. Menurut beberapa peneliti, mutasi memberikan virus corona semacam keunggulan biologis yang memungkinkan penyebarannya lebih mudah.
Mutasi D614G terletak di dalam protein yang membentuk spike virus yang fungsinya untuk menembus masuk ke dalam sel
tubuh manusia
. Mutasi ini mengubah asam amino pada posisi 614, dari D (asam aspartat) menjadi G (glisin) sehingga jadi, D-614-G.
"Jadi kami belum tahu mekanismenya persis. Tapi peningkatan mutasinya meluas. Kalian bisa lihat mutasi aslinya di Eropa, banyak mutasi varian virus ini dari Eropa," katanya.
Lalu apakah mutasi virus corona juga ditemukan di Indonesia?
"Indonesia, kalau lihat di Jatim dan Jawa Barat, Indonesia masih sangat terbatas datanya. Masih 21 virus yang sudah disubmit. Dan mutasinya ditemukan sekitar 8 datanya di Indonesia, di Jabar dan Jatim, dan ditemukan juga di Surabaya mutasi ini," urai Nyoman.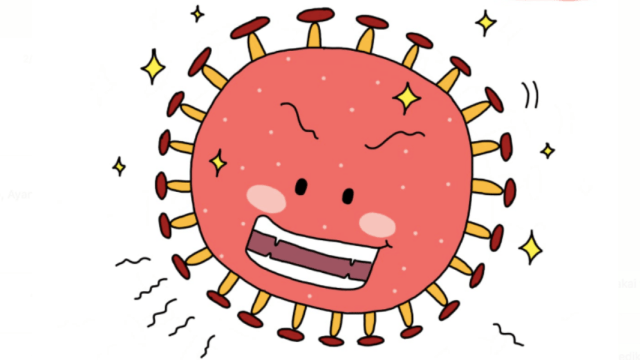 Namun menurutnya informasi soal mutasi virus corona di Indonesia ini masih butuh analisis seluruh karakter virus. Dan sejumlah negara lain telah memulai meneliti sampai ke sana.
"Negara lain telah melakukannya. Apakah mutasi ini masalah serius? Belum tahu. Efeknya masih diteliti lebih dalam. Tapi, untuk mutasi D164G, banyak publikasi jurnal internasional yang menjelaskan bahwa mutasi corona pertama ke corona ini bisa meningkatkan infeksi," jelas dia.
Unair sendiri sudah submit 6 karakter virus. Dua di antaranya termasuk D164G.
"Unair sudah submit 6 karakter virus, dua di antaranya karakternya terkait dengan virus di Eropa, dan keduanya termasuk D164G. Tapi menariknya salah satu nomor virus ini menarik, karena enggak cuma ada mutasi D164G (di Surabaya)," tuturnya.
"Tapi juga terindikasi dengan mutasi Q677H, sedang kami teliti apakah ada pengaruh dari mutasi ini. Apa yang terjadi, apakah benar atau gimana," sambung Nyoman.
Unair pun akan meneliti lebih lanjut soal mutasi corona Q677H. Sebab, belum banyak jurnal yang menjelaskan soal ini.
"Kenapa kita tertarik dengan Q677H di Surabaya. Karena hanya terjadi di Surabaya dari analisis data kami. Tapi data kami sangat terbatas, mungkin kita bisa lihat mutasi ini di kota lain atau area lain. Mutasi ini terjadi 99 kali di dunia," tutup dia.
Apa bahaya mutasi virus corona D614G?
Dr. Bette Korber, seorang ahli biologi komputasi dan ahli genetika populasi mengatakan, bahwa varian D614G sekarang tampak dominan di mana-mana, termasuk di China.
Situasi ini menunjukkan bahwa bahaya dari D614G adalah kemampuannya yang mungkin lebih mudah menyebar di antara manusia daripada virus versi aslinya.
Dr Korber pernah mengatakan di makalah penelitiannya yang terbit pada Juli 2020, varian D614G sangat begitu dominan hingga kini menjadi pandemi secara global. Dan diperkirakan sudah ditemukan sejak awal pandemi di Inggris Raya dan AS.
Dua studi yang diterbitkan di jurnal Cell, pertama oleh Dr. Korber dan riset kedua oleh WHO Collaborating Center di China, memberikan hasil bahwa D164G, strain dominan SARS-CoV-2 tampaknya 10 kali lipat lebih menular daripada Wuhan-1 yang asli.
Cell juga menerbitkan ulasan penelitian yang dilakukan oleh Dr Nathan D. Grubaugh, asisten profesor epidemiologi penyakit mikroba di Yale School of Public Health, pada Juli 2020 lalu. Menurutnya, kedua riset tadi belum ada bukti yang menguatkan adanya peningkatan penularan virus.