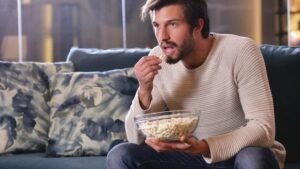 Seorang pria asal India yang dirahasiakan identitasnya dilaporkan mengalami kecanduan layanan video streaming. Pria ini diketahui berusia 26 tahun, pengangguran, dan kini tengah menjalani program rehabilitasi setelah dilaporkan menghabiskan 7 jam binge-watching setiap harinya menonton tayangan yang berada di layanan video streaming  asal Amerika Serikat tersebut selama 6 bulan berturut-turut.
Ya, dengan adanya laporan "unik" ini, India resmi menjadi negara pertama di dunia yang punya kasus kecanduan layanan video streaming. Kini pria ini diketahui sedang menjalani perawatan di klinik Service for Healthy Use of Technology di National Institute of Mental Health and Neurosciences di Bangalore, India. Pusat rehabilitasi ini juga menangani pasien yang bermasalah dengan penyalahgunaan obat-obatan dan minuman beralkohol, termasuk mereka yang kecanduan teknologi seperti gaming dan media sosial.
Tekanan menyebabkan kecanduan
Manor Kumar Sharma, profesor psikologi klinis klinik tersebut menjelaskan kepada The Hindu. "Setiap kali keluarganya menekannya untuk mencari nafkah, atau saat keadaan temannya lebih baik darinya, ia akan menonton berbagai konten pada layanan video streaming secara terus-menerus. Ini dikenal sebagai metode pelarian (escapism). Ia bisa melupakan masalah-masalahnya sekaligus mendapatkan kesenangan dari aktivitas tersebut."
Diungkapkan lagi oleh Prof. Manor bahwa kecanduan pria ini begitu parah. Saat ia bangun setiap pagi ia langsung menyetel saluran televisi tersebut.
Kecanduan ini menyebabkan ketegangan pada matanya, kelelahan, serta pola tidur tak menentu yang pada akhirnya mendatangkan malapetaka pada kesehatan pria tersebut.
Kasus ini tentunya mendapat perhatian karena layanan video streaming bisa begitu "memikat" yang memunculkan pola pikir "satu episode lagi" lalu lagi, lagi, dan lagi. Layanan ini memang memunculkan "gratifikasi instan", bagaikan endorfin dalam otak yang membuat kecanduan semakin mungkin terjadi.
Dikabarkan, tim dokter yang menangani kasus kecanduan ini menggunakan teknik meditasi, penyuluhan karier, termasuk terapi tradisional.  Prof. Sharma juga mengaitkan kasus ini dengan kecanduan video game, yang keduanya sering kali ditemukan bermanifestasi. Sarannya, hindari penggunaan teknologi jika aktivitas ini telah menjadi sebuah coping mechanism atau mekanisme pertahanan bagi diri seseorang.